GLENWAY HOMES
BUILDERS OF ARCHITECTURE
We build luxury custom homes. Since 1968.
Start Your Build Now
At Glenway Homes, we have been building custom homes in Perth since 1968. We work closely with you every step of the way from ideas through to inspection – guaranteeing you a smooth, high-quality build.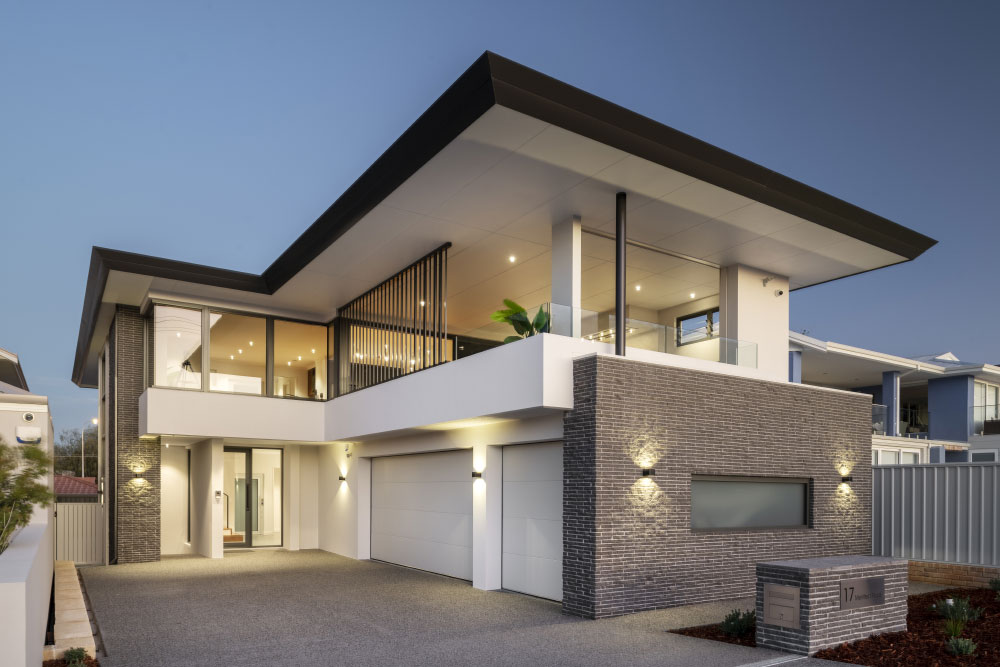 Custom Luxury Home Builders in Perth
Building luxury custom homes in Perth since 1968
Building a new home is an exciting time – especially when it comes to custom design. Often it's hard to know what builder to trust, which one can bring your ideas to life and who will take the time to get to understand exactly what you want.
We believe designing and building a custom built home should be an easy, stress-free, collaborative process – which is the exact approach we take on every home we design and build. We are a boutique builder, and afford the time to get to know you – this being the most important step – so to make certain there are no surprises or confusion, just a high quality home.
No compromise on quality
With over 50 years as a leading Perth home builder, we understand how important quality is. Our defects rate is 13 times lower than in the industry average. Want proof?
We prioritise this like no other builder by only partnering with reliable and trusted suppliers and contractors, working on only a small number of projects each year for maximum attention to detail, and using stringent quality controls every step of the build.
Our no compromise on quality means you get peace of mind that your home is perfect now and even more so in the future.
A boutique experience
To guarantee high-quality and a great build experience, we only work on a small number of projects each year. Our director supervises every home we build.
When you build your home with a boutique builder you become part of the family. We are on site every day to ensure no details get missed.
Communication with you is the key to our success. Constant communication and availability to you is the answer to eliminating hiccups and issues, making the build experience seamless.
Architecturally Designed
We partner with established architects to design and build exceptional homes that are completely tailored to your requirements. The collaboration between client, architect and builder is a match that always results in a better, faster and cost effective build by aligning up-front on things like feasibility, budget and practicality.
Unlike other boutique home builders, we work closely with architects in-house, which means that you never go back and forth, we are all aligned to the same result and you get double the creative brain power when we sit down to work on your dream home.
Reviews
"A great and stress-free experience"
"We decided to build with Glenway Homes, as they were a smaller company with a strong reputation for designing high quality homes within budget. They worked with reliable, long-term tradesmen, who had a great understanding of the project complexities, and the build was closely supervised at every stage, resulting in a home we're very happy with."

Mosman Park
"Glenway really took the time to listen and understand exactly what we wanted and were patient when helping us to explore and decide on all the finer details. We knew we could rely on any promises they made and are very pleased with how everything turned out."

Floreat
"Glenway was recommended to us, since we were searching for a company that offered flexible, tailored services within our budget. The entire planning and building process was smooth, and the MD John Woodford was a joy to deal with. We were kept in the loop throughout the project, and any challenges were quickly resolved."

Cottelsoe
"We wanted a smaller company that offered personalised services and innovative design ideas, had a history of great workmanship, and most importantly, were responsive to our family's needs. That's exactly the experience we had with Glenway, who made sure we were closely involved at every stage of the project whilst constantly presenting us with new ideas."

Shenton Park
"We were aware how stressful the building process can be, and trusted that Glenway would deliver exactly what we wanted, whilst minimizing the stress. Our expectations were exceeded, and it felt very much like a team project, in which nothing was considered 'too hard', and alterations were made until we were completely satisfied with every aspect of the build."

Subiaco
"Going into the build we knew we wanted a smaller builder, who we could work closely with from start to completion. Glenway proved to be exactly what we were looking for. Owner John Woodford was always available, helpful, and willing to discuss our options so there were never any unwanted surprises, and any faults were corrected immediately. A great and stress-free experience."

Dalkeith
"From the first meeting with John, he was friendly, knowledgeable, and quick to offer solutions whenever we encounter a challenge. In fact, the entire team (including tradesmen) were supportive throughout the process, listened to what we wanted and were committed to helping us get there."

Floreat
"Glenway had built a nearby home that we thought had a great design and seemed suitable to our needs, which led us to working with them for our own home. We were highly impressed with the professional yet personalises service we received, plus the quality workmanship from subcontractors. When any difficulties or queries arose, Glenway was always willing to deal with our concerns in a timely manner. We really couldn't have asked for a better experience."

Claremont
"Glenway's reputation as quality builder, and my friendship with John Woodford made working with them an easy decision. Their small size made for a unique and personalised experience, and everyone we spoke with knew their job well. The tradesman genuinely cared about the quality of their work, and everyone on the team was friendly and professional – always making a point to collaborate with us before going ahead with anything."

Floreat
"Selecting Glenway homes to renovate our home was one of the best decisions we have made. We can not think of a single thing with the build that we would have done differently. A great team, quality tradesman, who helped make the experience enjoyable for us. Thank you Glenway Homes."

Karrinyup
It's never too early talk about your next home. Book a Discovery Session to talk about your biggest ideas and make a plan towards your build.
Do you have questions: what kind of block should we be looking for? Should I knock down my current home? What budget are we looking at? What is the custom build process?
Regardless of whether you are three weeks or three years away from your next build, we are happy to sit down and discuss your biggest ideas, your wildest questions and help you create a plan to your build.
We're just as excited as you
It's never too early to start talking about your dream home. Get in touch with us today.
Get In Touch